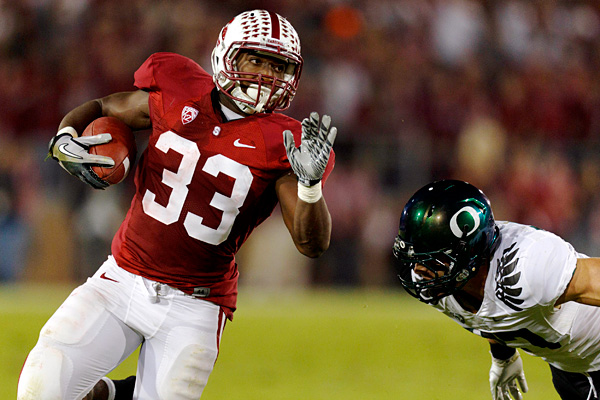 You'll have to forgive the casual football fan for not understanding the Stanford offense over the past three seasons. In 2009 Toby Gerhart was the runner-up for the Heisman Trophy, but he wasn't the most valuable player on his own team. (That was Andrew Luck.) Over the past two seasons Luck has been the best football player in America, but he sometimes served as a footnote to the powerful Stanford running game.
The truth of it all, of course, is that in Stanford's pro-style offense the passing game is intertwined with the rushing attack. While it isn't yet clear who will be playing quarterback for the Cardinal this fall, I can say without hesitation that he'll have the luxury of handing the ball to one of the best groups of running backs in the nation.
The greatest asset of this unit -- aside from the expected skill set of speed, strength, and agility -- is their depth and experience. Leading the way will be senior Stepfan Taylor. Taylor's had the misfortune of following one Heisman runner-up and playing in the backfield behind another for two years, so it's understandable that he might have flown under the radar a bit, but check out the numbers: 465 carries for 2,437 yards (5.24 ypc) and twenty-five touchdowns over the past two seasons. There's no reason to think he might make it four straight years that a Stanford man heads to New York for the Heisman ceremony, but who would've thought that about Gerhart three years ago?
Behind Taylor, believe it or not, the running backs only get more talented. First is the enigmatic Anthony Wilkerson. Following his debut season in 2010 (89 for 408 and three TDs), Wilkerson looked poised for a breakout sophomore season, but he took a step back. Even though he's bigger and faster than Taylor, Wilkerson gathered dust on the bench and only carried the ball 56 times for 282 yards, with roughly a third of that yardage coming in the blowout win over Washington. (Wilkerson was actually the third-leading rusher on the '11 squad, but as I write this Tyler Gaffney is currently riding a 24-game hitting streak, and most expect him to be playing professional baseball this fall.)
The next three running backs on the roster are redshirt sophomore Ricky Seale, who had only six carries last season, and Remound Wright and Kelsey Young, a pair of highly-touted backs who redshirted during their first year on the Farm. Now, when it comes to running backs or pitchers, too much is never enough. Either injuries will clarify the depth chart, or the depth will help players avoid injury, but I'd be surprised if all five of these players have RB next to their names come September. The most likely to switch positions would seem to be Seale, a player whom most schools recruited as a defensive back. (It should also be noted that departing safety Delano Howell arrived at Stanford as a running back, so a change like this certainly wouldn't be unprecedented.)
With depth like this, a roster so thick with running backs that a four-star recruit actually decommitted from Stanford in 2010 and chose USC because he liked the idea of early playing time at Tailback U, David Shaw didn't need to sign any backs in 2011. In fact, he and his staff decided that they wouldn't pursue a runner unless he was truly great -- and they found one in Barry J. Sanders.
Most recruiting services see him as one of the top running backs in the country, but not elite. Shaw disagrees. In various interviews he has referred to Sanders as a "difference maker" and "the best running back in the country." Even so, if the people ahead of him stay healthy, it might be best if Sanders spends this fall watching and learning. By 2014, however, expect him to be one of the top backs in the Pac-12.
There is one caveat to all this, though. As great as the offensive line promises to be and as talented as these running backs are, the quarterback position will have a lot to do with the degree of success of the running game. Taylor's back-to-back thousand-yard seasons were keyed by Andrew Luck's brilliant adjustments at the line of scrimmage and the threat of his pinpoint passing. Regardless of who wins the quarterback competition this spring and fall, we can expect to see defenses lining up week after week to stop the run. How the offensive line responds to this, how the running backs handle this, and how the quarterback exploits what's given will all eventually determine the success of the 2012 Stanford offense. Stay tuned.
Previous Previews:
Offensive Line 
[Photo Credit: Jason O. Watson/US Presswire]